Age Of Heroes by James Lovegrove (book review)
James Lovegrove created the 'godpunk' sub-genre of military SF back in 2009 with 'The Age Of Ra'. Since then the 'Age of…' series has grown to a total of six novels and three novellas, each focused on one particular pantheon, including the Norse, Aztec and ancient Greek gods amongst others. With 'Age Of Heroes', Lovegrove has come almost full circle, returning to ancient Greece, the inspiration for his second godpunk novel, 'The Age Of Zeus' but, this time, focusing not on the gods themselves but the numerous demigods produced when any of the more lusty inhabitants of Mount Olympus decided to have their wicked way with a mere mortal. The resultant list is long, including such primary school favourites as Heracles (Hercules), Theseus and Achilles.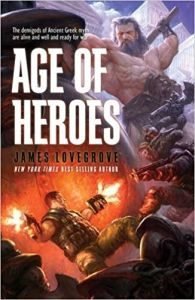 Although not actual deities themselves, each of these demigods is, for most purposes, immortal, so we find many of them still alive and kicking in the early 21st century, some three thousand years on from their origins, including several that the Greek myths reported as dead. Inevitably, as the centuries have rolled on, they have had to move with the times, reinventing themselves frequently and changing identities every time someone starts to notice that they never age. The easiest way to do this used to be by faking your own death, hence the many mistaken reports in the literature.
The first demigod we meet is Aeneas, the hero who escaped from the fall of Troy and founded Rome. His current identity is as the travel writer Anthony Peregrine and he's in the south of Argentina writing a piece on the Tierra del Fuego. He's bored by his job and life, so when he's approached in a bar by a British man called Roy Young, who has come there to ski, he revels in the chance for some lively, intelligent company. They have dinner together and agree to go for a hike in the mountains the following day. The hike is very enjoyable, right up till the moment when Roy goes into the woods to relieve himself and someone starts shooting at Anthony! He can't believe it and, although injured, he attacks, using his super-human strength and speed to good effect. That is, until he finds himself shot in the chest and surrounded by armed men, who are commanded by his new acquaintance, Roy Young. Even then, Anthony knows he can't be killed by mortal weapons. When Roy unveils an ancient two-pronged trident that Anthony recognises, however, the game's up. The 'bident' is no mortal weapon and when Roy stabs him through the heart with it, the three thousand year life of Aeneas finally comes to an end.
A few days later, best-selling crime writer Theo Stannard, otherwise known to posterity as the demigod Theseus who slew the Minotaur, is having an expensive lunch in Manhattan with his agent, Cynthia, to celebrate the new two-book deal she's negotiated for him, when he gets a series of urgent texts. They're from well-known celebrity Chase Chance, frontman for the internationally syndicated TV series 'Monster Hunter'. Chase is otherwise known as Perseus, one of many sons of Zeus and the man who killed Medusa, the snake-headed Gorgon. Chase tells Theo that he's heard a rumour of Anthony Peregrine's death, supposedly in an avalanche. As he's currently filming the latest episode of his TV series in Puerto Rico, he has decided to head down to Argentina when they're done to find out more for himself.
While Chase is doing that, a second demigod gets himself killed. Isaac Merrison is the current alter-ego of Orion the Hunter, for whom the night-sky constellation is named. He runs a dive school off the island of Vanuatu in the South Pacific. He's super-impressed with the professionalism of his latest set of students until, half-way through a dive to watch tiger sharks, five of them grab him from behind, while the sixth, Aeneas's murderer Roy Young, gives him a serious chest wound from a large double-bladed battle axe and then leaves him to be eaten alive by the sharks.
Soon after Chase has verified Aeneas' death, which Roy Young faked to look like he'd been crushed in an avalanche, he and Theo also hear about Orion's untimely demise. The accidental deaths of two demigods in a week seem more than a little unlikely. So the questions they need to answer are: who has decided to start killing demigods all of a sudden, how are they managing to do it and, most important of all, why?
As Theo and Chase go on the hunt for answers, demigods continue to die and the two of them realise that if they don't work out what's going on soon, they'll find themselves next on the menu.
I thoroughly enjoyed each of the previous outings in Lovegrove's godpunk series and was sad to hear that the most recent one, 'Age Of Shiva' (2014), was likely to be the last. The publication of 'Age Of Heroes' was therefore a very pleasant surprise. After reading it, that feeling has only increased. Lovegrove has such facility in his chosen medium that reading one of his novels is always a delight. The prose is natural, conversational and pulls you in as an eager participant in the story, desperate to know what's going to happen next.
The characters with which Lovegrove has populated this novel are many and varied, yet he has still managed to imbue each of them with sufficient detail and vitality to enable them to step off the page and walk around in their own skins. This is particularly true of the demigods, where the author has done a great job of taking their key mythical characteristics and imagining where that might take them to in the 21st century. Theseus, the wise King of Athens, becomes Theo, a thoughtful crime writer whose job is to right fictional wrongs. Perseus, the slayer of monsters, now does the same job for a living, just on TV. Heracles, whom we encounter later in the novel, has become a successful Mexican wrestler. Equally, the non-mythical characters also get their fair share of attention. Foremost amongst these is Roy Young, the leader of the group of mercenaries hired to kill the demigods. Instead of painting him simply as a cold, efficient killer motivated purely by money, Lovegrove gives Roy a back story that becomes integral to the plot and which explains why this ex-soldier continues to do the one thing he's really good at despite his own misgivings.
What I really loved about the story was the way that Lovegrove integrates the historical relationships between the demigods into their present day interactions. Theo and Chase are cousins and good friends, even if Chase does seem to be envious of Theo's success and constantly keen to trumpet his own. When they meet Helen of Troy, she can't wait to remind Theo of the fact that they were once married and, at that time, he adored her unconditionally. In the same way, Hippolyta, Queen of the Amazons, is initially reluctant to help Theo when asked, because she still resents the fact that he eloped with her sister Melanippe. However, by the end of the story, she has seen his honourable side and forgiven him for his behaviour some three millennia ago.
The only aspect of the story I was less convinced by was the explanation, close to the end of the book, for why Roy Young's team of mercenaries had been engaged to start killing three thousand year-old demigods in the first place. Throughout the book, such a major undertaking felt like it required a really strong justification. The one that emerges in the final chapters doesn't seem to me to have sufficient weight to balance the expectation that's been built up by the story itself.
That single gripe aside, however, 'Age Of Heroes' fully lives up to its name. It's an epic story of heroes and villains in conflict, showering the reader with larger than life characters, dramatic set pieces and a fair smattering of entertaining ancient history for good measure. Educational as well as thoroughly enjoyable so what's not to like? I do hope that James Lovegrove decides to bring his godpunk series back out of retirement again soon. I'll be waiting.
Patrick Mahon
April 2017
(pub: Solaris, 2016. 384 page paperback. Price: £7.99 (UK). ISBN: 978-1-78108-404-5)
check out websites: www.solarisbooks.com and http://www.jameslovegrove.com